Build the Perfect Plant-Based Bowl
Wondering what to eat to protect your health?
Not anymore! 
Follow this simple formula to create a healthy plant-based bowl that's bursting with nutrition and flavor, in 30-minutes or less.
As a plant-based eater and certified Holistic Health Coach, one of my go-to meals is a "Healthy Bowl". Not only are plant-based bowls easy to make, they are highly customizable, and allow you to get a full spectrum of nutrition to fuel your busy day and protect your body from unwanted inflammation. 
Get the Balanced Bowl Formula
Why Plant-Based?
Inflammation is the underlying cause of too many health issues. 
Poor nutrition is directly linked to excess weight gain, Type 2 Diabetes, heart conditions, high cholesterol, anxiety, depression and many more.
As we age, it's important to fuel your body with foods that offer a spectrum of vitamins and minerals needed to stay strong and that won't cause harm.
You don't have to give up all the foods you love or "go vegan", but you DO need to start eating more fresh plants!
My name is Deborah and I've designed a simple formula to help keep you on track with nutrition.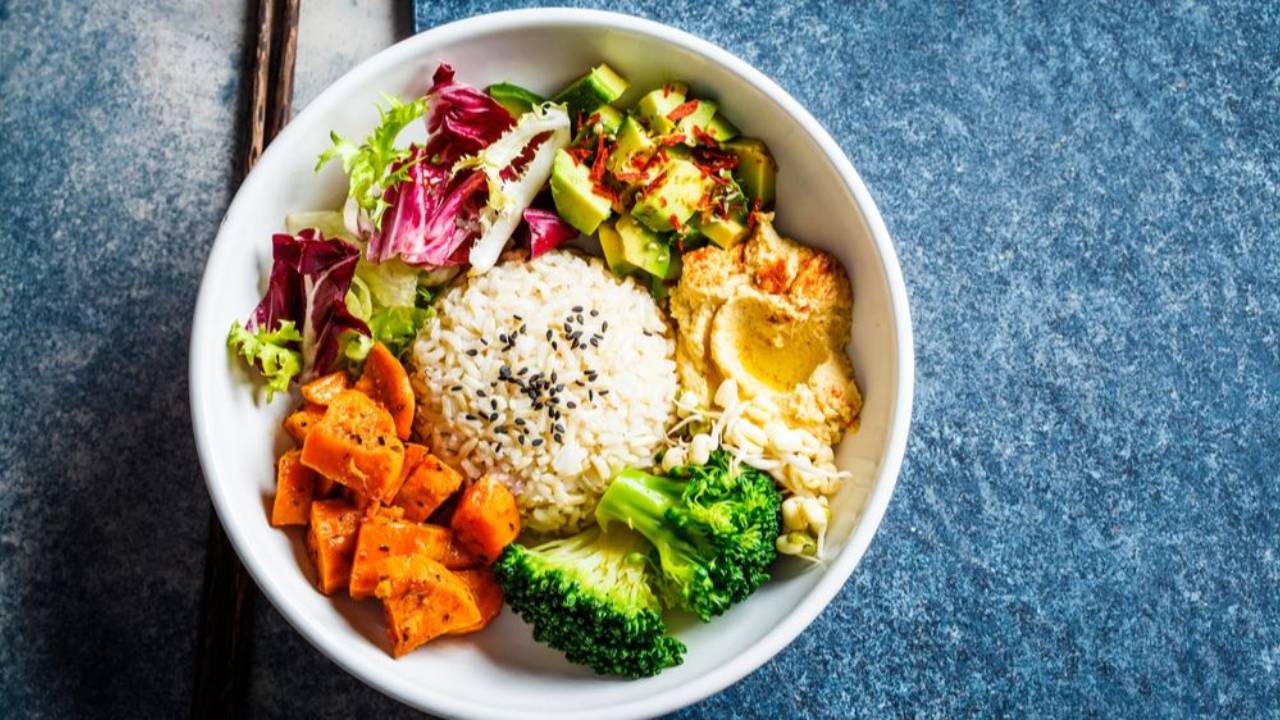 Follow These Simple Steps
Although making a bowl is an easy option, there are certain things that can cause it to go south. For instance, some bowls neglect protein and others are low in the satisfaction and taste department.
However, creating the perfect bowl doesn't have to mean following a complicated recipe. This simple 5-step formula will help you come up with the perfect bowl that suits your taste buds and appetite. You can choose the ingredients that you like best and experiment with different versions of a plant-based bowl. 
The possibilities are endless!
Choose a base - this is usually either a whole grain (which is a complex carb) or a leafy green. I recommend both!
Add a protein - plant-based protein contributes to muscle growth and appetite control - it's really important! Try tofu, seitan, tempeh, edamame, black beans, lentils, hemp seeds, peas, quinoa, chickpeas, kidney beans, flax seeds and many more!
Choose your toppings - add veggies, fruits, nuts, seeds and anything extra nourishing.
Sauce it up - in my humble opinion, this step can not be missed. You can elevate the flavor of your bowl AND get in a little extra nutrition with the right sauce or dressing. 
Make sure to grab your download of the Balanced Bowl Formula and get my favorite Rainbow Tempeh Bowl recipe to get started!
Download my PDF